By Linda Kush
Genealogy is an endless treasure hunt and, if you're not careful, you can spend a lot of your own treasure building your family tree. Subscriptions to the popular paid genealogy sites like Ancestry and MyHeritage can cost hundreds of dollars a year. That's why, when you discover your fourth-great-grandmother for free, it truly feels like you've struck gold! And it's why we are all about mining the vast genealogy resources on the internet for free records.
Family History Daily has written extensively on finding and using free resources online. You can find 50 free genealogy sites here, a U.S. state by state guide to no-cost sites here or discover dozens of other articles about free research here. Family History Daily's Genealogy Research Course is also, in large part, focused on no-cost resources. There are hundreds of them, just waiting to be searched.
But that doesn't mean you should stay away from the subscription sites. There are records and tools on the pay sites that you simply can't access anywhere else, making an investment worth it for many. But there is also another reason to check out these Goliath resources – free records.
Make Instant Discoveries in Your Family Tree Now
Imagine adding your family tree to a simple website and getting hundreds of new family history discoveries instantly. MyHeritage is offering 2 free weeks of access to their extensive collection of 18 billion historical records, as well as their matching technology that instantly connects you with new information about your ancestors. Sign up using the link below to find out what you can uncover about your family.
Free Genealogy Databases Found on Paid Subscription Sites
Please know that Family History Daily has partnered with some of the sites in this article to bring you information about their services and may earn a fee to support our work if you choose to take advantage of some of the services mentioned on this page. 
One of the leaders in providing free records is Ancestry.com. The site currently offers more than a thousand complimentary databases and indexes mixed in among its paid collections. For some, you need to have a free account. Others require no sign up at all
Unfortunately, the home page has no link directing visitors to these free records and searching "free databases" in the card catalog doesn't take you there either. But it is possible to search all of these collections in one place. Family History Daily has written about these no-cost records before in the article How to View Thousands of Free Records on Ancestry Without a Subscription. Read that article for even more details about Ancestry's free offerings.
Or, if you're ready to dive right in, you can access the free collections right here.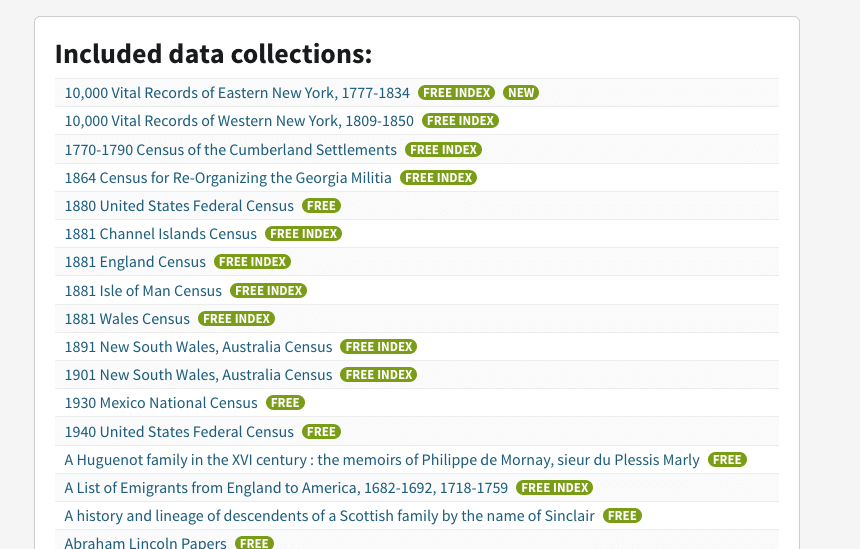 Some of the databases in the free collection are ridiculously obscure. For example, a mere handful of researchers will be interested in "Hamilton College, New York, Graduates of 1879."
However, many of the selections contain thousands of records of broad interest. Examples include location-specific censuses such as the Alabama State Census of 1820-1866, obituary indexes from various states and counties, tax records from places as diverse as Kentucky and Latvia, immigration records such as the Mainz, Germany, immigration register, 1856 to 1877, and hard-to-find military records like American volunteers in the Mexican War, 1845-1848.
In addition, hundreds of databases related to the Holocaust are provided on Ancestry in cooperation with JewishGen, a website specializing in Jewish genealogy. While these records are available for free on Jewishgen.org, the site makes the advanced search features available only to donors. Researchers may get faster, easier results on Ancestry.
You can search individual databases or search the entire collection at once. Each strategy has its advantages. As you browse the list, perhaps you will see a title that pertains to a place and time in your family history. In that case, searching that database alone would give you fewer hits to evaluate and, often, a unique search form to take advantage of. But if you want a big picture view of what kinds of buried treasure the collection might hold, search all 1,000-plus titles at once.
18 Billion Genealogy Records Are Free for 2 Weeks
Get two full weeks of free access to more than 18 billion genealogy records right now. You'll also gain access to the MyHeritage discoveries tool that locates information about your ancestors automatically when you upload or create a tree. What will you discover about your family's past?
As a plus, the Ancestry free databases hold some historically fascinating records. Even if they do not include your ancestors, they may interest you as tiny windows into the past.
For instance, "Kitchener, Ontario, German War Graves" includes records of 187 German prisoners of war held in POW camps throughout Canada during World Wars I and II who died during their captivity, primarily from natural causes such as cancer. In 1970, the Canadian government exhumed the remains buried in various locations in Canada and brought them all to the cemetery in Kitchener to afford convenient access to Germany family researchers.
The database "New England, Salem Witches and Others Tried for Witchcraft, 1647-1697" is a grim reminder of a dark time in American Colonial history. Search the name Bridget Bishop, the first person tried during the witch hysteria that swept Salem, Massachusetts in 1692, and a chilling result appears. Seeing Bridget's fate displayed in this way, just as you would an ancestor's voter registration, makes the tragedy real, not just a paragraph in a textbook.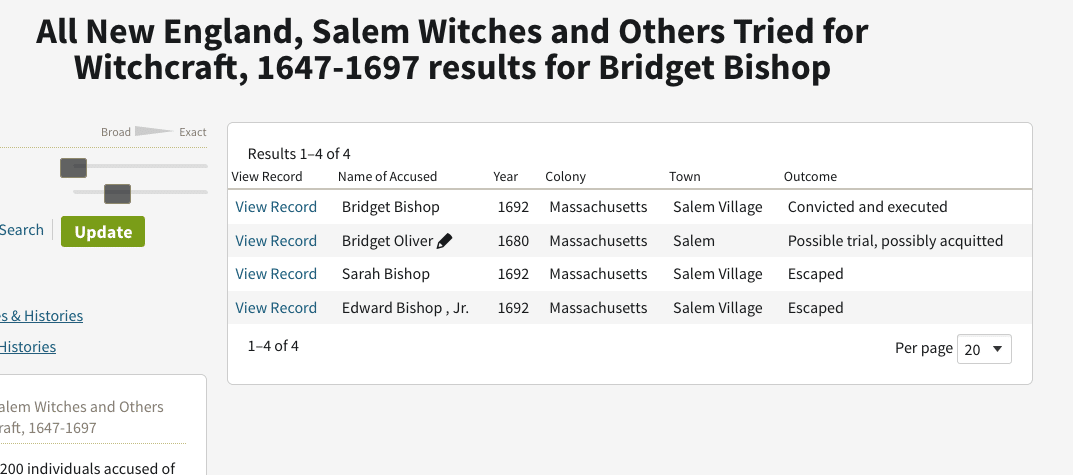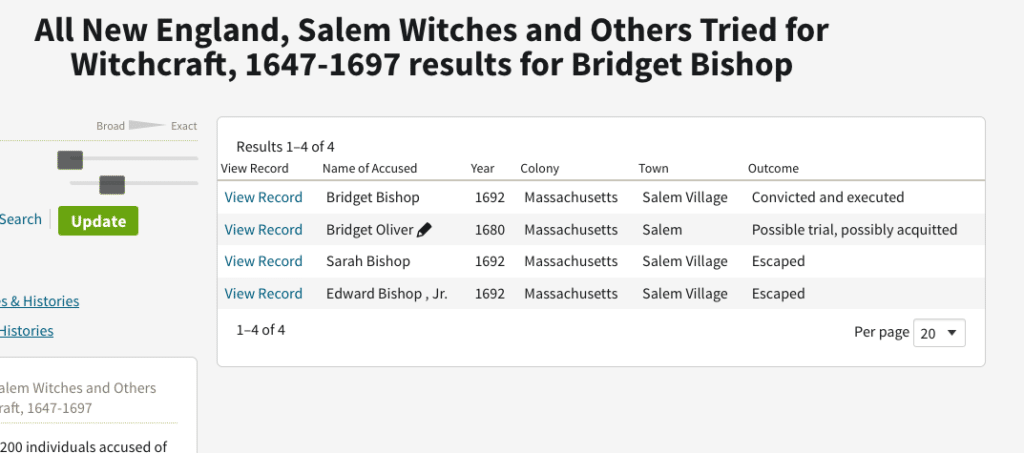 But Ancestry is not the only site that offers free records, another subscription site providing generous free content is FindMyPast.com. Findmypast specializes in the British Isles, although it also includes some U.S. and Canadian records. They make these no-cost records easy enough to find – a link to "Free records" is found in a menu at the top of the home page.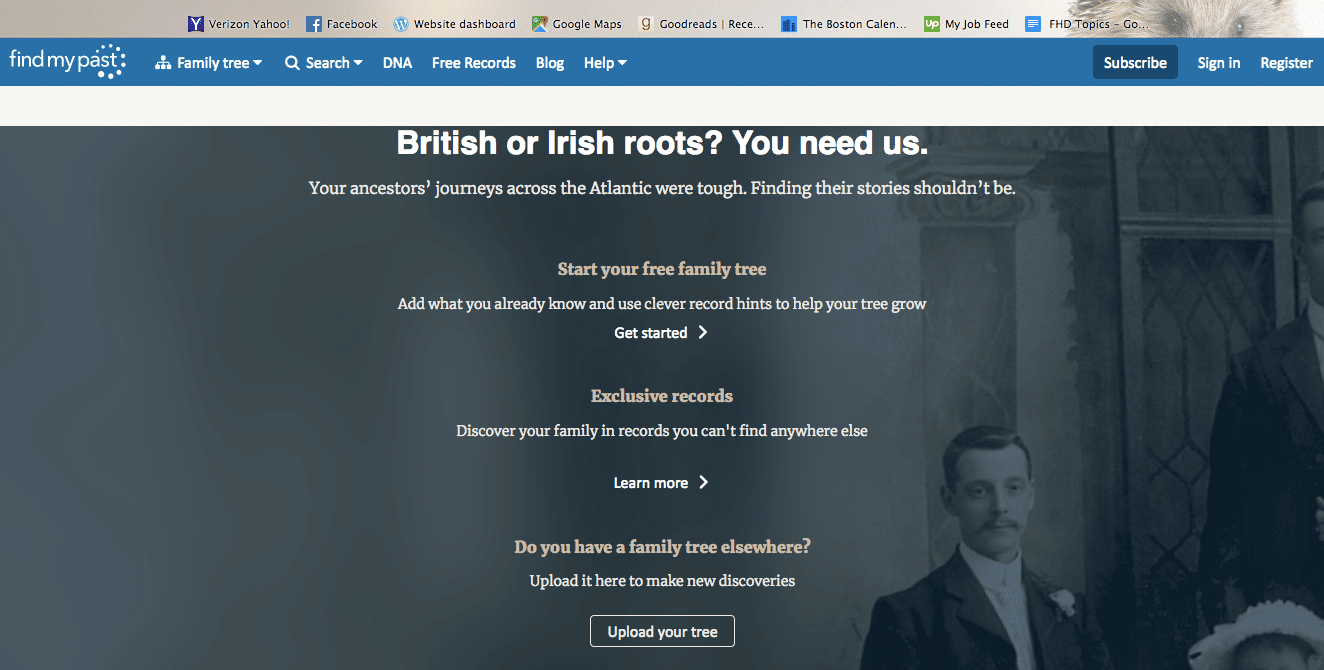 The site boasts that it provides access to nearly 1 billion records for free and includes the full U.S. Census from 1790 to 1940. Free offerings also include Irish Roman Catholic Parish Records, the 1881 England, Scotland, and Wales Census, and select public records of births, marriages, and deaths in the U.S. and Canada.
These databases are definitely worth checking out, especially if you have UK ancestors. You'll likely also find Findmypast's site easy to use and packed full of educational resources to help you with your research.
In contrast to Ancestry and Findmypast the free offerings at MyHeritage, however, are virtually nonexistent. The site offers no easy way to find cost-free databases and performing an internet search was not helpful.
Nevertheless, we discovered one free database on MyHeritage that we do love, "Biographical Summaries of Notable People." Even if you don't know of any notable people in your family tree, try searching your surnames. The results could surprise you!
Luckily, there are other ways to access MyHeritage's vast collections without cost. MyHeritage Library Edition is offered at various libraries and can sometimes even be accessed at home at no cost with your library card. Ancestry also offers a library edition that can be used for free at certain libraries. Contact your local branch to find out what genealogy resources they offer or read this article for more help.
Of course, you can always take advantage of 14-day trials from Findmypast, MyHeritage and Ancestry if you want access to all of their records at no cost. While not technically a free offering, a trial can be incredibly useful to the prepared researcher – especially of you take advantage of the hints and discoveries that all of these sites offer. Just remember to cancel before your two weeks is up if you don't plan to pay for a subscription.
We hope these collections will help you knock down some brick walls, all while saving some cash. Enjoy!
Read more about the differences between these top subscription sites in our comparison guide or discover more sites that offer free records here.
Linda Kush is a freelance writer and genealogist in Boston. Her book, "The Rice Paddy Navy," began as a family history project. She is gratified that it has helped family historians whose fathers and grandfathers served with her father in China in the U.S. Navy during World War II.